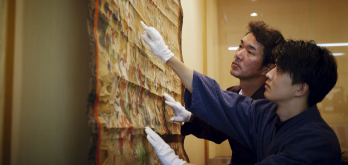 If you've never visited Iwasaki Seishodo or if you restore or making a mounting or works for the first time, please read this first. We have summarized what Hyogu is, the process of requesting it, and frequently asked questions.
What is a mounting/Hyogu artisan
表具・表具師とは?
Hyogu refers to scrolls, hanging scrolls, folding screens, sliding doors, screens, frames, picture albums, etc. made by textiles or paper. Maiking them is called hyousou. A person whose job is to make mountings is called a Hyogu artisan. The main work is the repair of hanging scrolls, folding screens, screens, frames, picture albums, scrolls, etc. At Iwasaki Seishodo, we handle the replacement of mountings, keeping in mind that the mountings that support the work from behind. We aim to create a mounting that is in harmony with the work and the mounting, so that the work can be viewed comfortably.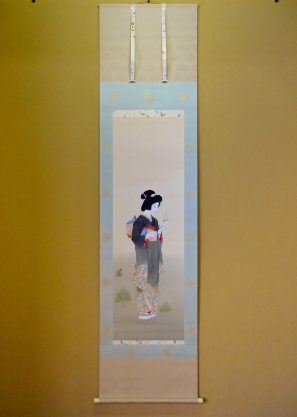 Published work "Ito Shinsui"
Process of request
ご依頼の流れ
Frequently Asked Questions
よくある質問
Q1

What is a hanging scroll?
Calligraphy or paintings are reinforced by being backed with paper or cloth, and decorations appropriate to the work are given. It is mainly displayed in the alcove.
Q2

How long does it take to finish the mounting?
It depends on the work and circumstances,but it takes about 2 months.
Q3

The stain is terrible, can you help me?
I will do my best. Each stain has a different cause and a different condition. We will make the best decision based on a preliminary investigation.
Q4

Can I choose the fabric and color matching myself?
We will give top priority to your wishes. If you visit our store, you can actually choose from over 100 types of fabrics.
Q5

I have a piece that I don't plan on displaying, but is it possible for me to pick it up?
Is possible. We will take it back at a reasonable price.
Q6

Do you rent out works?
Q7

Is it possible for you to come to my home?
We will be happy to visit you if you are in the three Hokuriku prefectures.
Q8

Can I ask you to reupholster the doll's snow cave?
We are very sorry, but we do not reupholster the doll's snow cave. The snow cave in Tenjin can be re-covered, so please feel free to contact us at any time.
Inquiry
*Red areas are not entered or selected.