Work of IWASAKI SEISHODO
岩﨑精正堂の仕事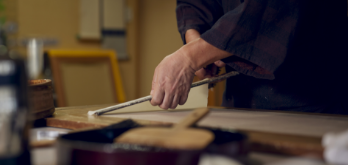 Japanese paintings drawn on paper or silk deteriorate over time, such as stains, creases, peeling of paint, and peeling of torn fabric. The job of a Japanese art conservertor is to stop this deterioration and restore the painting. The work is sometimes seen as simply a repair shop that brings negative values to zero, but we do not essentially think of our job as restoring things to their original state. This is because it is necessary to bring the work back to its best condition without sacrificing its unique color tone or texture acquired over the course of history. What does it essentially mean to take responsibility for entrusting customers' important works? We keep thinking and never forget to approach our work with sincerity. Here we would like to introduce Iwasaki Seishodo's commitment to work.
Creating new works
At Iwasaki Seishodo, we also create new works by utilizing the repair techniques we have cultivated over many years. We can produce a wide range of products, from traditional works from ancient times such as Buddhist temple scrolls to original products tailored to modern lifestyles. We place importance on the creation of highly custom-made new products that combine creativity and technical capabilities as an attempt to ensure that inherited techniques take root in modern society.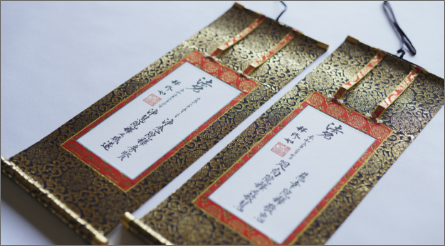 Homyo-jiku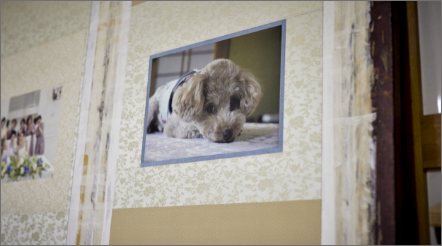 Photo hanging scroll "Kake Photo"
Special tools
Hyogu is produced using high-quality materials. I believe that tools can only be created by combining the skills of craftsmen to create them.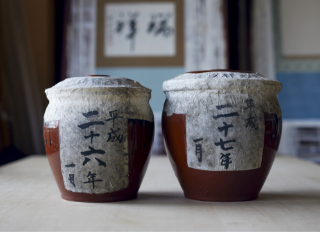 Paste
We use shofunori[paste] which is made by boiling wheat starch in water.Used for lining Washi paper.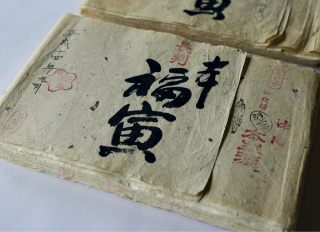 Paper
We use only the highest quality handmade washi paper.Depending on the target work, we may use materials that have been aged for more than 10 years.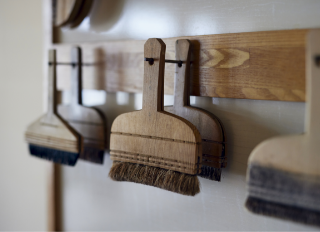 Brush
We carefully select high-quality brushes that are flexible and stiff so that we can work without damaging your work and can handle detailed work down to the millimeter level. We select the most suitable brush from over 40 brushes and use them according to the work process and condition of the work. We take the time to carefully clean and maintain our equipment after each job so that it can be in its best condition every time.